Meet the new president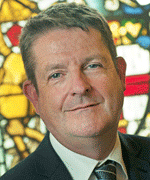 Hampshire solicitor Andrew Caplen took office as the 170th president of the Law Society during today's annual general meeting.
He outlined his priorities for the year as:
launching an access to justice campaign
2. undertaking a major programme of research into the effects of the civil legal aid changes
3. promoting equality and diversity, and
4. increasing member engagement
Read more about his priorities and watch a video introduction
Council approves 17% reduction in PC fee
The Law Society Council has approved a 17 per cent reduction in the individual practising certificate fee for 2014-15.
Find out more
Stark warning on emergency surveillance legislation
The Law Society has warned that introducing emergency legislation will do nothing to enhance the rule of law or address the fact that we are increasingly becoming a 'surveillance society'.
Find out more
Legal aid
Law Society pledges further support for crime solicitors
The Law Society has pledged further support for criminal law solicitors, following a request from practitioner bodies for financial backing for a judicial review of the government's consultation on legal aid reforms.
Find out more
Law Society slams residence test decision
The Law Society has condemned the government's decision to impose a residence test on civil legal aid eligibility. MPs voted yesterday to pass a measure that prevents access to legal aid for non-UK residents who may have a compelling claim.
Read more about the decision and get further information on the test
Excellence Awards: book your tickets for the ceremony
The Excellence Awards is the most prestigious event in the legal calendar, offering a chance to network with top legal professionals while celebrating a year of outstanding achievements.

Join us on Thursday 9 October at the Park Plaza Hotel as we shine a spotlight on the brightest talent in the legal profession.
Book your tickets today to enjoy early bird discounts
Managing risk: Law Society support
The latest risk outlook from the SRA identifies risks that must be managed if the profession is to deliver ethical services. Our advice will help you to avoid identified risks:
inadequate systems for transfer of money (see our anti-money laundering advice)
2. proper standard of work for vulnerable clients (see practice notes on financial abuse,working with D/deaf clients, and mental health tribunals)
cyber security, and
3. lack of succession/exit planning (see our practice note on closing down your practice)
All our advice
Read the Risk Outlook 2014/15
Further support: Join the Risk and Compliance Service
Business development: strategic support for members
As part of the new Law Society Consulting service we are delighted to announce specific support, advice and training to meet your business development needs.
Our carefully picked team of expert consultants can offer your firm bespoke guidance to help grow your client base, boost your profitability and make the most out of existing clients.
More information on Law Society Consulting
Guide to property development

Property Development provides a step-by-step guide to the acquisition of land for development and an analysis of the most commonly used transaction structures.
The second edition of this popular guide has been comprehensively updated to take account of changes to the law since 2010.
Training and events
Anti-money laundering and financial crime conference 2014 – 5.75 CPD hours

Major changes in financial crime and AML compliance lie ahead in the coming years.

Whether your firm is small and UK-focused or large and international, this conference will ensure you receive the most up-to-date information from people who are developing, implementing and enforcing the law, regulations and guidance.
Book today – 20 November

Sponsors:

Judicial appointments: interview training for solicitors – 5.5 CPD hours
This course will equip you with the skills to help enhance your application and interview performance for judicial appointments. You will receive practical advice on completing the application form, incorporating your experiences and invaluable interview practice with feedback. There are also opportunities to meet the judges at our regional events.
Book today – various dates
Annual human rights conference – 5 CPD hours
This conference will cover a wide range of topics associated with business and human rights, including modern slavery, litigating the global case and whether a treaty on business and human rights is the way forward. It offers a mixture of keynote addresses and workshops, as well as informal opportunities to exchange ideas and build relationships.
Book today – 10 December
Housing possessions and injunctions – the ASB, Crime and Policing Act
The Anti-Social Behaviour, Crime and Policing Act represents the largest overhaul of the ASB tools available to social landlords in many years. This webinar guides those acting for social housing providers through the main changes including injunctions, practical implications, powers of arrest and exclusions, housing vs non-housing injunctions and the new absolute ground for possession.
View the webinar
Spread your tax bill

With the tax season upon us, the Law Society's endorsed finance provider, Syscap, has opened its TaxFunder portal to help you better manage your cashflow and protect your banking lines.
Spread your bill over six or 12 months in just six minutes.
Find out more about TaxFunder
Making the most of your membership
Wincanton Records Management ensure your documents and data are kept safe and compliant with regulation.
Find out more
Expert support on capital allowances.
Find out more