Event Recording | BSN/Halo/Linklaters – Halo Code: Building a future without hair discrimination | 26 July 5.30pm
Click here to watch the recording!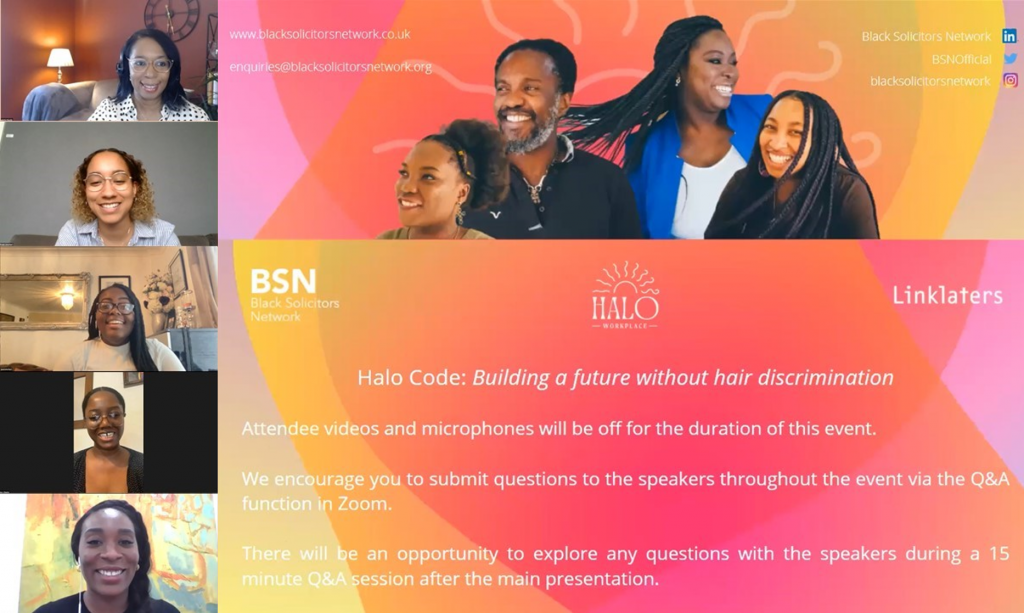 Following our campaign in March 2021 calling on law firms and legal service providers to adopt the Halo Code, we are delighted to have collaborated with the Halo Collective and global law firm Linklaters to bring you this informative seminar 'Halo Code: Building a future without hair discrimination' featuring Paulette Mastin, Thalia Papanicolaou, Jane Iwo, Mary Mante and Marie-Louisa Awolaja.
Halo's presentation was educational, insightful and engaging, and covered the history of hair discrimination and how it manifests today in schools and workplaces. Louisa, on behalf of Linklaters, covered the perspective of an employer addressing this issue and why they adopted the code – encouraging other firms to do the same. Supporting the work of Halo and echoing its message is in line with BSN's primary aims of achieving equality of access, retention and promotion of Black lawyers. Tackling hair discrimination and promoting change among employers to improve the experiences of Black individuals in the sector are important elements of our work. BSN is proud to support Halo and continue to call on law firms and legal service providers to adopt the Halo Code, and to tackle and prevent instances of hair discrimination in the workplace.
The event was well attended and our audience was engaged in the discussion via the Q&A. Some difficult questions were explored such as whether an attendee should cut her locs as she has experienced hair discrimination and fears that it may be preventing her from progressing through the job application process. In response, a Black female partner who was attending the event sent in the following encouraging comment:
I have been listening and I would like to thank all the panellists and the HALO team for raising awareness. I have been wearing my locs for the last ten years and have interviewed and successfully obtained associate, counsel and now a partner position with my locs. I have worked with clients all over the world with my locs.
The event received great feedback – thank you to our panellists and attendees for making this event a success:
…Very proud to see our young generation standing for our rights… We need more of these [events] across the corporate world.
Thank you, a wonderful session! Well done!
Thank you. This was very good – should form part of a mandatory induction training.
Very constructive
Linklaters said:
Just a note to say thank you to BSN and the Halo Collective for an excellent session this evening… Combating hair discrimination is such an important part of fighting racial discrimination and making Black colleagues feel safe and respected in the workplace. Together, you covered all the pertinent aspects of the issue with depth and valuable personal insight.
Click here to watch the full event recording!
Resources mentioned during the event
> BSN's Open Letter – call to action: BSN's Open Letter: A call to action for racial diversity | Black Solicitors Network
> BSN's March 2021 campaign to support Halo and call on the legal profession to do the same: https://www.blacksolicitorsnetwork.co…
> Halo's website: https://halocollective.co.uk/halo-wor…
> Sign up to the Halo Code on Typeform: https://theadvocacyacademy.typeform.c…
> Halo's petitions: https://www.change.org/p/uk-governmen…https://www.change.org/p/uk-governmen…
> Halo's e-mail address: hello@halocollective.co.uk
> Follow Halo on social media @thehalocode