The Need for Disruption: Diversity League Table/Study 2020 Launch
BLACK SOLICITORS NETWORK LAUNCHES LATEST DIVERSITY LEAGUE TABLE / STUDY
Click here to view the digital copy!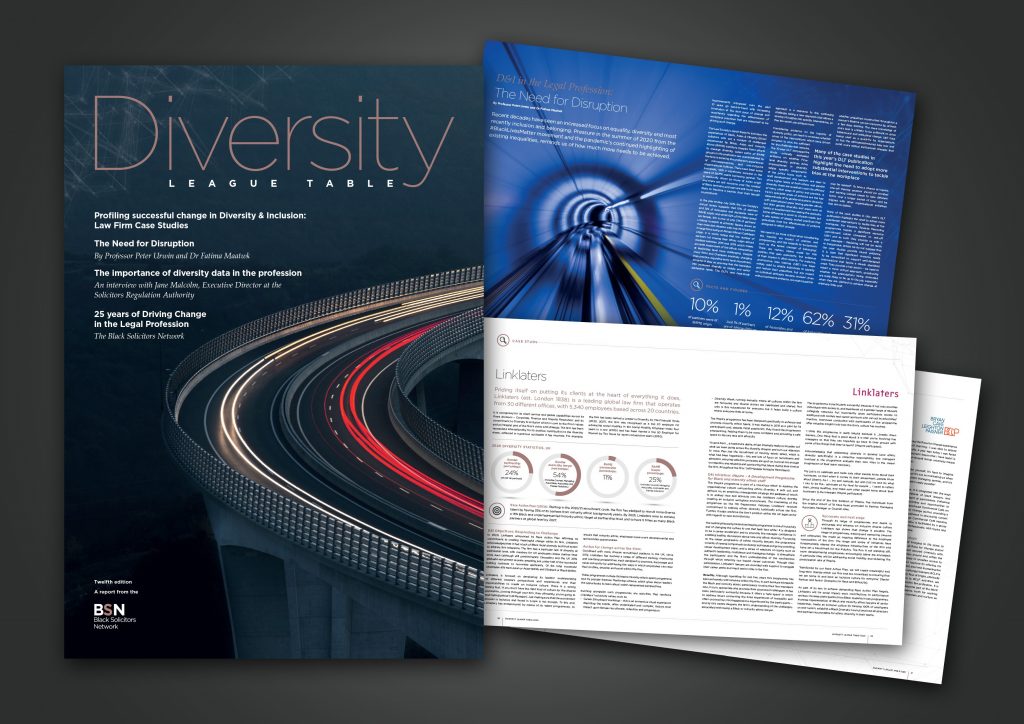 Offering a new and compelling insight into the state of diversity and inclusion (D&I) within the legal sector, the latest edition of the Diversity League Table (DLT), DLT2020, is now available. Published by the Black Solicitors Network (BSN) in conjunction with The Law Society, DLT2020 combines key facts and figures with thought-provoking articles by key stakeholders and features D&I case studies from seven global law firms.  DLT2020 is essential reading for law firms, Chambers and other organisations who want to stay informed about D&I within the profession and the practices that can accelerate change. Reflecting on a year which saw the rise of the Black Lives Matter campaign sparked by the murder of George Floyd and inequalities heightened by the pandemic, this comprehensive new study aims to inspire the legal sector in shaping its strategy and culture to help shift the dial on gender and race, equity, diversity and inclusion.
Case studies
DLT2020 is the 12th edition of this influential D&I study and looks beyond the annual reporting of diversity issues (via the traditional DLT and other surveys) towards identifying and exploring where positive change is happening within the profession and what is needed to make progress on D&I.  The new-look DLT2020 details seven D&I case studies from leading law firms, namely: Allen & Overy, Bryan Cave Leighton Paisner, Freshfields Bruckhaus Deringer, Herbert Smith Freehills, Latham & Watkins, Linklaters, and Norton Rose Fulbright.  Focussing predominantly on issues of race and ethnicity, these insightful case studies set out the D&I objectives in each firm and the challenges faced; the actions being taken across the firm to drive change; and focuses on a specific D&I intervention, sharing details of its purpose, operation, benefits, and next steps. This new addition to the DLT aims to help those who are determined to drive change in the sector by shining a spotlight on those firms that are committing significant resource to D&I and recognise the benefits. Well-thought-out approaches to D&I are seen as essential investments by such firms, having the potential to reap significant benefits – all firms realised that they were missing out on untapped potential, with clear implications for performance, external reputation and perceptions of brand.
DLT2020 also highlights results from The Law Society's Race for Inclusion research which looks at experiences of Black, Asian and minority ethnic solicitors and details demographic trends and statistics. Key findings include how Black, Asian and minority ethnic representation is lower in larger firms, and Black, Asian and minority ethnic solicitors are less likely to reach senior positions in these organisations. In addition, it highlights the higher levels of stress experienced by Black, Asian and minority ethnic solicitors compared with white solicitors, and finds that Black, Asian and minority ethnic solicitors are more likely to work in typically lower-paid areas such as personal injury and family work, rather than the commercial and corporate sectors.
Informed opinion
In addition to the new case-study approach, which offers a sharing of insights and specific interventions within leading law firms, DLT2020's lead article – The Need for Disruption, Professor Urwin and Dr Maatwk take a critical look at D&I policies and practices that have gained popularity and why inclusion and belonging are necessary but not sufficient to drive radical organisational change. Raphael Mokades, Founder and Managing Director of Rare, also features in this latest edition, sharing details about how the Race Fairness Commitment serves to combat career obstacles faced by minority ethnic lawyers. In addition to these thought-provoking articles, the importance of diversity data in the profession is the subject of an in-depth interview with Jane Malcolm, Executive Director of the Solicitors Regulation Authority.
Summing up the launch of DLT2020, Paulette Mastin, Chair of BSN and Editor of the Diversity League Table, comments: "We are delighted to profile BSN's 25-year anniversary of striving towards an equal profession and to share our 25-year journey in this publication. A core initiative of BSN, the DLT engenders greater transparency around diversity measures, profiles D&I interventions that are driving progress and further drives the development of evidence-based D&I practice and initiatives across the legal sector, which is essential to shift the dial. We would like to thank all the individuals and organisations that have supported our work over the years and we look forward to continuing to work together to drive meaningful and sustainable change in the legal profession."
Click here to view the digital copy!