Current and back issues of the Diversity League Table can now be viewed online. Please click on the links below to access a digital edition.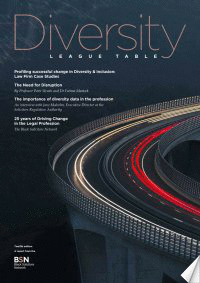 Diversity League Table 2020
We are proud to launch the 12th edition of BSN's Diversity League Table/Study (DLT2020). Published in conjunction with The Law Society, DLT2020 features insightful D&I case studies from 7 leading global law firms, focussing predominantly on issues of race and ethnicity. This edition is essential reading for anyone who wants to be informed about diversity and inclusion within the legal profession and the practices and measures that can accelerate change.
BSN are pleased to present the full 2020 Digital edition as E-Book: click here to read.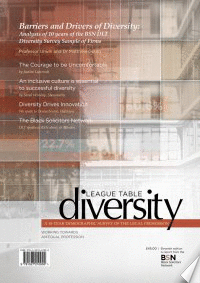 Diversity League Table 2017
We are delighted to launch the 2017 edition of BSN's Diversity League Table: 10-year Study (DLT2017) the event was hosted by Latham & Watkins. The Diversity League Table (DLT) is sponsored by The Law Society and is widely considered to be the legal profession's leading diversity reporting initiative and publication, covering gender, ethnicity, disabilities, sexual orientation and social mobility.
DLT2017 reports on the barriers and drivers of diversity in the legal profession over the past 10 years and is based on a detailed review and analysis of diversity data submitted by leading law firms that have participated in the DLT since its inception in 2006. The launch event featured a preview of the findings of DLT2017 by BSN's lead researcher, Professor Peter Urwin, and a panel discussion entitled the Courage to be Uncomfortable, chaired by Justine Lutterodt, Director of the Centre for Synchronous Leadership, with audience Q&A.
BSN are pleased to present the full 2017 Digital edition: click here to read.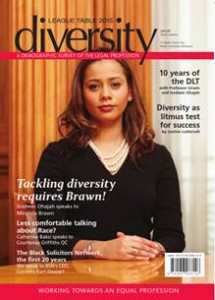 Diversity League Table 2015
This 10th edition looks at diversity across some of the UK's leading law firms and chambers. Analysis: by Professor Peter Urwin. Foreword by the UK Prime Minister, the Rt. Hon. David Cameron MP. It's the BSN's 20th anniversary year and we interview founding member and CEO, Cordella Bart-Stewart. We also look at 10 years of the DLT. Other interviewees include Courtenay Griffiths QC, UK Diversity Legal Award winners (2014) Jaya Handa and Tunde Okewale. Cover interview with Miranda Brawn. Digital edition: click here to read.
This 9th edition looks at diversity across some of the UK's leading law firms and chambers. Analysis:by Professor Peter Urwin. Foreword by the Government's Equalities Minister, the Rt. Hon Nicky Morgan. We interview Morgan Stanley's Head of Diversity (EMEA) Annabel Smith and Hewlett Packard's Diversity Programme Director, Derek Tuitt. We again consider diversity outside of London and meet Harold Brako, head of Shoosmiths' Manchester office. Digital edition: click here to read
The 8th edition of this ground-breaking publication which looks at the diversity profiles of some of the leading UK law firms and Chambers. Analysis by: Professor Peter Urwin. Foreword by the Rt. Hon Maria Miller MP. Interviews with Chuka Umunna MP and Lloyds Banking Group GC, Lesley Wan. New for 2013, reporting on "Regional Differences: the diversity north-south divide". Digital edition:  click here to read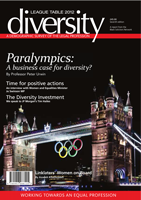 Diversity League Table 2012
The 7th edition of this ground-breaking publication which looks at the diversity profiles of some of the leading UK law firms and Chambers. Analysis by: Professor Peter Urwin. Foreword by the Rt. Hon Alan Milburn. Editorial includes "Paralympics: business case for diversity" and an interview with JP Morgan MD, Tim Hailes. Digital edition: click here to read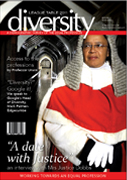 Diversity League Table 2011
The 6th edition of this ground-breaking publication which looks at the diversity profiles of some of the leading UK law firms and Chambers. Analysis by: Professor Peter Urwin. Foreword by the Rt. Hon Nick Clegg MP, and interviews with the Hon. Mrs Justice Dobbs and Google's European Head of Mark Palmer Edgecumbe. read more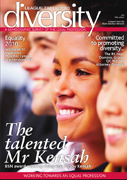 Diversity League Table 2010
The 5th edition of this ground-breaking publication which looks at the diversity profiles of some of the leading UK law firms and Chambers. Analysis by: Professor Peter Urwin. Interviews with Dominic Grieve QC MP, the Attorney General, and Equalities Minister, Lyn Featherstone MP. Introducing the Diversity Quotient ©. read more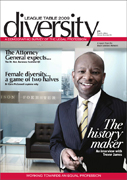 Diversity League Table 2009
The 4th edition of this ground-breaking publication which looks at the diversity profiles of some of the leading UK law firms and Chambers. Analysis by: Professor Peter Urwin. Foreword by the Rt. Hon. Harriet Harman QC MP. Includes an interview with the Rt. Hon. Baroness Scotland QC, the Attorney General. Introducing, Case Studies. read more
Earlier editions are not available in digital format