Links Lawyer Scoops Diversity Gong
5 December 2011 | By Vanessa Wozniak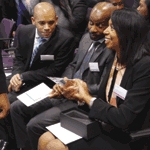 Linklaters capital markets lawyer Paulette Mastin is a leading light in the field of law firm ­diversity, devoting much of her time to championing the work of black lawyers in the City.
And her work has not gone unnoticed. Last month she was named Diversity Champion 2011 at the Black Solicitors Network's (BSN) UK Diversity Legal Awards.
Chair of the BSN's City Group since 2008, Mastin is in charge of a seven-strong steering committee comprised of associates, ­partners and in-house counsel.
The group's objective is to address the needs of, and issues affecting, black corporate, commercial and finance lawyers practising in and around the City and Canary Wharf.
These include the creation of networking opportunities for black City lawyers, providing a forum for career mentoring and developing relationships between in-house counsel and private ­practice lawyers.
Mastin also co-runs Linklaters' internal diversity initiative – the Black, Asian, Minority Ethnic (BAME) Network – that aims to encourage the recruitment, ­retention and promotion of such people at all levels within the firm.
As well as equipping black City lawyers with the information, skills and contacts they need to thrive, Mastin recognises the importance of engaging clients and other firms in the debate over increasing diversity in the legal profession.
Mastin believes that law firms should be as diverse as their client base.
"We have a responsibility to deliver a service that not only responds to our clients' needs, but also reflects their diverse cultures and values," she argues.
Linklaters recently teamed up with the BSN City Group and a leading banking client to hold a panel event on global capital ­markets specifically designed for black City lawyers.
In speaking about her ­experiences as a black lawyer it is clear that Mastin sees the value of ­internal and external networks that support diversity.
"While I've been fortunate in some respects to have had support and guidance in my career, I'd have benefited early on from having access to diversity networks," she admits. "Not least because of the opportunity to share and learn from the experiences of others who have navigated the same path.
"In recent years diversity ­networks have become an accepted feature of organisational life, ­particularly in global firms such as Linklaters."
Asked how the BSN engages with City firms to promote the interests, recruitment and ­promotion of its members, Mastin ­outlines a number of agendas the organisation is pursuing.
"The BSN Diversity League Table [DLT] is particularly instrumental in this regard, in that it provides a comprehensive analysis of the demographics of many ­leading law firms and chambers," she explains. "Through this ­publication law firms, including ­Linklaters, are encouraged to share best practice and are able to gauge their progress in the area of recruitment of BAME lawyers."
This year's DLT results, ­published in November, show that 16 per cent of all trainees are from ethnic minority backgrounds, ­representing a year-on-year increase since 2007. The proportion of ethnic minority associates increased from 10 per cent to 11 per cent over the same period, while the figure for partners rose slightly to 5 per cent.
In total, 44 firms volunteered to participate in the survey. This figure includes 13 international firms, 26 UK top 100 firms and six of the City's finest.
Despite the slow trickle of those from BAME backgrounds over the years Mastin remains positive, but warns that more still needs to be done.
"The increase in ethnic ­minority representation is due in no small measure to the efforts, policies and practices that firms have ­implemented to increase diversity in the legal profession," she says. "While it should be recognised that strides have been made in this regard it's clear that there's still more to be done to increase ­diversity in the middle and senior ranks of the legal profession."
Article from The Lawyer