BSN Winter Newsletter 2020
Dear Members,
Season's greetings!
I'm sure you'll agree that 2020 has been a year like no other. As an organisation and within our communities we have faced unprecedented challenges arising from the Covid-19 pandemic and, in its midst, the brutal killing of George Floyd which catalysed the global anti-racism protests over the summer.
The death of George Floyd will remain a pivotal point for racial justice, equality and equity. We were moved to pen an Open Letter to the legal profession as an urgent call to action for racial diversity and have since experienced significant engagement with law firms and other organisations on this critical issue for our profession. Long may that continue as the profession turns talk into action and action into meaningful and sustainable change.
As we wind down for the festive period, we wanted to take this opportunity to reflect on the past few months of BSN's 25th anniversary year.
October saw a strong pipeline of events in celebration of Black History Month, including:
· BSN City Group's Creating Pathways event, 'Building Business Relationships' (in a physical or virtual environment), hosted in association with our programme sponsor, Shearling and Stirling, and led by Luan de Burgh
· BSN City Group and Linklaters' 'Inspired to Succeed: Black History through the Arts', featuring George the Poet and Kwame Kwei-Armah OBE, which was an evening of cultural enrichment, education and inspiration
· BSN's Big Conversation hosted by Freshfields Bruckhaus Deringer and featuring Professor Leslie Thomas QC, Sharon Blackman, Gabriel Mpubani and Suyi Fred-Omojole. The event's insightful discussions centred around operationalising vocal commitments on race – if you missed it, the event round-up and recording are available here. During the event, Paulette Mastin (BSN Chair), Cordella Bart-Stewart (BSN Co-Founder and Director) and BSN Directors Paul McFarlane and Liam Symonds, together with our guests, raised their glasses in celebration of BSN's 25th anniversary of working towards an equal legal profession.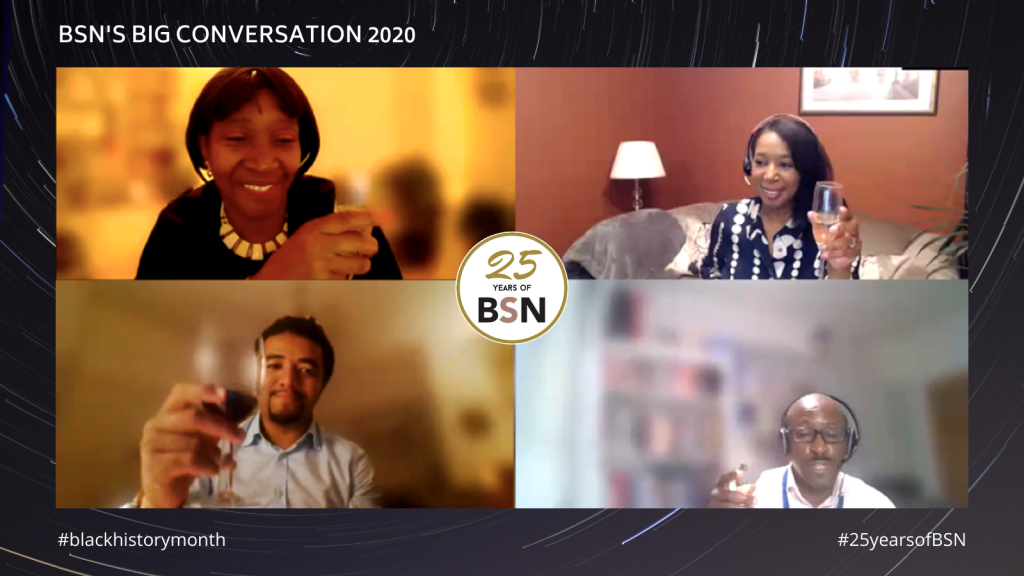 For a snapshot of BSN's 25 year journey, click here: The Law Society Gazette: BSN – 25 years of striving for equality.
Following the successful re-launch event of BSN Midlands in August, the newly recruited BSN Midlands Committee met for the first time in October.  We are excited to be developing our offering in the Midlands region in 2021!
Throughout the month of October, we ran our inaugural 'Shine a Light' series on LinkedIn and Instagram, showcasing trailblazing black lawyers who are leading advocates for racial diversity and equity in the profession.
We had further cause for celebration during Black History Month when BSN received the Highly Commended recognition in the category of Excellence in Diversity and Inclusion at The Law Society's Excellence Awards 2020 virtual ceremony! BSN were highly commended for our outstanding work in raising awareness, influencing the legal sector and demonstrating effective action for early engagement with future solicitors, and BSN's work in building a diverse pipeline into the profession and supporting the careers of diverse talent.

In the wake of the global anti-racism protests this summer, many organisations have pledged to recruit and promote more Black and minority ethnic (BME) talent, engage BME talent on their mandates and support and use BME-owned businesses as suppliers. It is in this spirit that BSN launched BSN Connect in October, our national online directory of BME solicitors, law firms, barristers, chambers and suppliers to the profession (including diversity consulting, coaching, IT, wealth management etc): BSN Connect.

We invite BME solicitors, barristers, law firms, chambers and BME-led businesses (of any size) as well as suppliers to the legal profession to support this initiative by listing on BSN Connect. Subscription listing is FREE for the first 3 months and thereafter will be only £45 p.a. Listing your details is straightforward – visit BSN Connect, click on 'Add Your Listing' and upload your contact information.
BSN Connect is a gateway to receiving and sharing opportunities, information, advice and connections among lawyers and legal suppliers. Join today!
The momentum continued into November and December with:
· BSN's Roundtable, 'Barriers and Challenges faced by High Street Law Firms and Sole Practitioners', hosted by BSN Directors, Cordella Bart-Stewart, Joe Mensah-Dankwah and newly appointed BSN Director Anthony Graham of Amonsu Robinshaw. Paralleling BSN's high street roots, the event was a constructive discussion among black high street practitioners and presented an opportunity to contribute to the development of practical measures to support small firms.
· Our inaugural BSN and Rare collaboration which brought together a panel of experts including, Raphaella Gabrasadig Raph Mokades and Segun Osuntokun, chaired by Paulette Mastin, to discuss 'Demanding Race Fairness at Work'. This was an informative and engaging session with practical advice on how to turn dialogue on race into proactive change.
· BSN collaborated with The University of Law to host their 'Diversity Matters' event which featured a wide range of speakers who discussed and debated diversity in the workplace and shared advice and tips for making progress.
To conclude our event pipeline for 2020, BSN North supported 'Tips on securing a vacation scheme and training contract', hosted by Eversheds Sutherland.


Our virtual gateway for diverse talent: BSN's Jobs Board is an online platform for legal jobs which are available for all lawyers and legal sector professionals, including black and minority ethnic professionals.  We aim to present a range of jobs and career opportunities from a range of employers who are making genuine efforts to ensure they reach out to a truly diverse pool of talent  .  For more information about career opportunities or to advertise your next career opportunity via our Jobs Board, including the available jobs packages, click here.


BSN is pleased to support Accutrainee's Scholarship Programme.  Accutrainee is offering a unique route to qualification where trainees are sponsored to undertake their Solicitors Qualifying Examinations and provided with the necessary qualifying work experience to qualify as Solicitors.  Accutrainee is looking for highly talented university graduates with black heritage, a genuine passion and interest in law and a strong desire to qualify as UK solicitors. This year's programme is more suited for those with an interest in commercial law, particularly in the fintech sector.  To read more and apply, click here.
We would like to thank everyone involved at BSN (including our committees and directors), all our supporters and sponsors and our members for your loyalty and support over the past 12 months. We hope we can count on your continued support for the coming year as we strive towards an equal profession.
We wish you a very happy and safe festive season and a fulfilling and healthy 2021.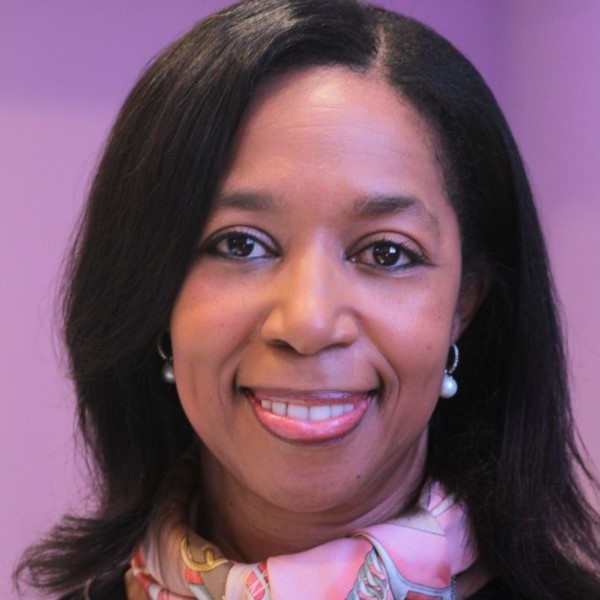 Best wishes,
Paulette Mastin
Chair | Black Solicitors Network
BSN Twitter |  BSN LinkedIn | BSN Instagram
---
For general BSN enquiries, email enquiries@blacksolicitorsnetwork.org
---
Support the BSN
The Black Solicitors Network (www.blacksolicitorsnetwork.co.uk) is a non-profit organisation without formal funding support (and only limited sponsorship). We made a conscious choice to not charge individual membership fees, which means our service offering and network/career support reaches and is accessible by thousands of lawyers, aspiring lawyers and students across the country.
We do, however, face financial resource challenges, but we want to remain as committed and supportive to our members regardless, and to build upon our service offering.
Your support by way of a donation (however small or big) would be greatly appreciated so that we can continue, and build on, our work in striving towards an equal profession.
Please click here to make a donation to the BSN
If you are a firm, corporate or other organisation, we have attractive corporate membership and sponsorship opportunities – please visit our website for more information.
Thank you