UK Diversity Legal Awards: Keynote speakers confirmed
Law Society President Jonathan Smithers and high court judge, the Honourable Mr Justice Dingemans, will be the keynote speakers and guests of honour at the 2015 UK Diversity Legal Awards presentation dinner. This prestigious black-tie event will take place on the 24th November at the Grange Tower Hill Hotel in London. Presenting the awards this year will be the highly regarded BBC television presenter and journalist Zeinab Badawi.
The UK Diversity Legal Awards are the only industry awards which focus solely on recognising and promoting best practice in the areas of; equality, diversity and inclusion, across the legal profession.
Submissions are invited that cover one, some, or all aspects of diversity; to include age, faith, social mobility, gender, disabilities, sexual orientation and ethnicity.
The UK Diversity Legal Awards are open to organisations from across the country, and of all sizes. Submissions are welcome from firms, chambers, in-house legal teams (private and public sector) and suppliers to the legal profession.
Categories include; Recruitment, Retention and Promotion. As well as BSN Rising star and Diversity Champion.
The judges for this year's awards are:
Abu Bundu-Kamara, Director of Diversity and Inclusion for Pearson plc, EMEA & APAC
Kim Hollis QC, Barrister, 25 Bedford Row
Trevor James, Managing Partner, (London office) Morrison & Foerster
Sarah Jones, Group General Counsel, the BBC
Sailesh Mehta, Barrister, Red Lion Chambers
Jonathan Rayner, Journalist and writer, the Law Society Gazette
Antony Townsend, the Financial Services Complaints Commissioner (former CEO of the SRA)
The deadline for nominations and submissions has been extended to: 5pm Friday 9th October 2015.
This event also marks the 20th anniversary of the BSN.
For more information please visit: www.diversitylegalawards.co.uk
Click on the image below to see the event video, which includes commentary from the 2014 winners.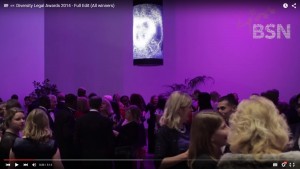 Dates for your diary:
17th November 2015:    
Launch event, 2015 BSN Diversity League Table publication. Host sponsor: Linklaters, London
24th November 2015:
UK Diversity Legal Awards, Grange Tower Hill Hotel, London