BSN's December 2018 Newsletter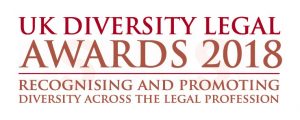 Diversity and inclusion role models, champions and leaders were honoured at the 9th Annual UK Diversity Legal Awards ceremony on Tuesday, 21 November at the prestigious Grange St Paul's Hotel, London!
This year we were delighted to showcase an incredible line-up of finalists representing a broad spectrum of diversity, including gender, ethnicity, sexual orientation, mental health and social mobility.
The sold-out Awards were attended by over 300 guests and presented by BBC Presenter and Correspondent, Reeta Chakrabarti.  A truly diverse gathering of the great and the good from across the legal profession and beyond were unified in their celebration of the exceptional achievements of the Awards finalists, winners and those highly commended in shifting the dial on equality, diversity and inclusion within the sector.  The celebrations were made all the more enjoyable by stand-out performances from classical violinist, Braimah Kanneh-Mason, and international singing sensation, Rachel Kerr.
Congratulations to all Award winners, those highly commended and finalists, you are an inspiration for our continuing efforts in striving for an equal profession!
Full list of 2018 Award winners
Thanks to our sponsors this year for their support in making this celebration of diversity in all its forms possible: The Solicitors Regulation Authority, LexisNexis, Thomson Reuters and Linklaters.
We were reminded by the President of The Law Society of England and Wales, Christina Blacklaws, during her address at these Awards that even though progress has been made in the area of equality, diversity and inclusion in the profession, "there is absolutely no room for complacency, there is much more to be done."
On that note, we hope you will nominate your diversity champions, role models and initiatives for the UK Diversity Legal Awards 2019 (which will mark the 10-year anniversary of these Awards), nominations for which open in the Spring 2019!  Details will follow in the New Year.
http://www.diversitylegalawards.org/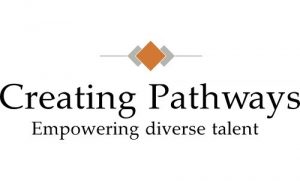 BSN City Group recently launched its Creating Pathways through mentoring and sponsorship programme 2018/19. Over 20 successful applicants to the programme have now been paired with senior City lawyers as mentors.  Two mentee openings have just come available – if you are an aspirational BME lawyer (in private practice or in-house) with approximately 2-6 years PQE and are interested in participating in this one-year programme, please apply by clicking APPLY and complete the online application form.
The deadline for doing so is 7 January 2019.
http://www.creatingpathways.co.uk/
BSN's Big Conversation
Thank you to those who attended BSN's Big Conversation event in September where we debated race equality in the profession and in the justice system. Here are a few photo highlights.
This was followed by BSN's Ethnicity Pay Reporting roundtable in November.  The feedback and discussion from this session will enable BSN to formulate an informed response to the Government's consultation on Ethnicity Pay Reporting for employers in January 2019.
BSN's Big Conversation series will continue into 2019 when we hope to delve further into some of the recommendations arising from the Lammy Review as well as other issues of race equality in the legal profession and the justice system. We hope you will join our Big Conversations in 2019!
BSN's Junior Lawyer Division
BSN's Junior Lawyer Division (JLD) launched successfully in Spring this year at a reception and panel event hosted by Linklaters LLP.  The launch was followed by an impactful session in the summer on Personal Branding for junior lawyers.  The JLD Committee are excited to announce their upcoming seminar series for 2019 entitled "Building Career Capital" involving industry thought leaders and inspirational role models.
Further details will follow in the new year – we look forward to welcoming you to these events!
Outstanding Diversity Network Award 2018
A memorable highlight of 2018 was BSN winning the Outstanding Diversity Network Award at the Inclusive Companies Awards ceremony in November. This is testament to the tireless work of BSN's directors and committee members who volunteer their time, energy and expertise to drive change. Our thanks also to our stakeholders and members whose support over the years has been instrumental in this achievement.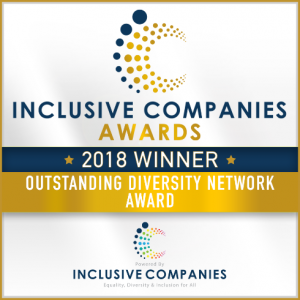 There are many initiatives, programmes and events that BSN, BSN City and BSN North have developed, delivered and/or hosted over the past year and we are delighted to have had your participation, input and support along the way.
Thank you for all your support, and we wish you an enjoyable festive season and New Year.
Best wishes,
Paulette Mastin
Chair, Black Solicitors Network
http://www.blacksolicitorsnetwork.co.uk/
For general enquiries to BSN: Contact us
To join BSN as a member, click: