BSN Hot Topics: Countdown to SQE with the SRA | 2 June 21 at 6pm | Event recording
Thank you to those who attended yesterday evening's event BSN Hot Topics: Introduction to SQE with Julie Brannan, Director of Education and Training, Solicitors Regulation Authority and Jo Connolloy, Vice Chair of the Sole Practitioners Group. The event was hosted by BSN Director and Co-founder, Cordella Bart-Stewart OBE.
We hope you enjoyed the event if you were able to attend! Thank you to our well-engaged audience who asked many important questions, and to Julie for her detailed and insightful answers. Questions included:
"For people who have started the LPC or done the first part of the QLTS, are they exempt from part of the SQE examination?"
"What happens if the LPC was taken 12 or more years ago and one has done paralegal work in between…. what is the route in such case?"
"Will any single question contain more than one subject. e.g. Contracts and Land Law?"
The event received 95% 'Excellent' or 'Good' feedback:
"Very informative and very knowledgeable speakers. Thanks"
If you missed the event, want to watch it again or share with your colleagues, the event recording is available here.
Please note that Julie would like to make a small correction to one of her answers regarding the QLTS transition:
"QLTS transition arrangements for completion of QLTS by candidates that have passed the QLTS Multiple Choice Test by this September. The correct position is that candidates have until 31 August 2022 to complete the OSCE (skills test) or until 31 August 2023 to complete the QLTS by passing SQE2. For details see the SRA website. www.sra.org.uk"
SRA post event resources:
If you have any feedback on this event or want to suggest ideas for the next BSN Hot Topics event, please contact us at events@blacksolicitorsnetwork.org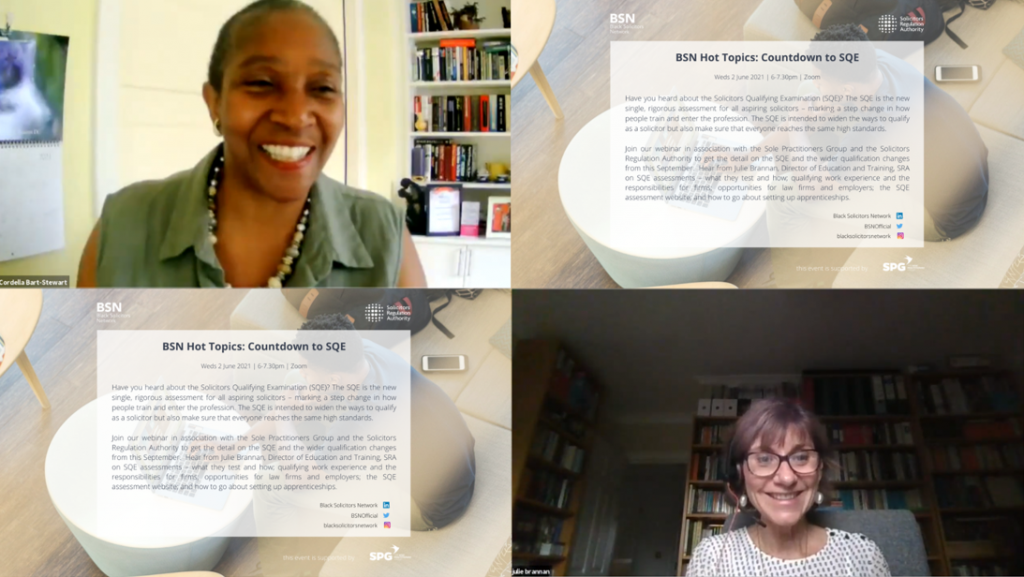 Downloads: