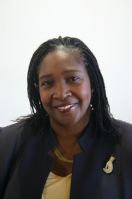 An immigration and family law specialist, Cordella founded Stewart & Co Solicitors & Privy Council Agents in 1990 as a general legal practice in North London. She has a strong interest in equality and human rights issues and has specialised in family and immigration law for over 25 years.
She has been a pioneering champion for social justice working across many different sectors including as an independent Governor of Staffordshire University, which awarded her an Honorary Doctorate. She is current Chair of the Education Committee. She has been a fee paid Immigration Judge since 2000.
Her extensive management and leadership experience was recognised by the Chartered Management Institute who appointed her a Companion of the Institute. She was shortlisted as the Law Society Gazette Legal Personality of the Year in the Law Society Excellence Awards 2014.
She is a serving Director and founding member of BSN.