UK Diversity Legal Awards, Presentation Dinner and Ball
November 28, 2019
£160.00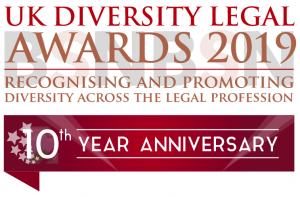 The UK Diversity Legal Awards was founded in 2009 to showcase and celebrate the excellent work being done by individuals, teams and organisations to engender greater diversity in the legal profession. It is the only industry awards which focus solely on recognising and promoting diversity, inclusion and equality across the legal profession. Having successfully celebrated its 9th year in 2018 with the support of the Solicitors Regulation Authority, LexisNexis, Thomson Reuters, Linklaters, The Law Society of England and Wales and the Bar Council, our 10th Anniversary Gala Dinner and Ball will continue to promote the successful work and commendable efforts of individuals and organisations who continue to inspire others to follow their lead.
With senior figures from the profession invited, more than 300 guests are due to attend, and up to 100 companies will be represented. The event is an opportunity to engage, challenge preconceptions, share ideas and network with peers, colleagues and future business partners.
The winners will be announced at a glittering black-tie dinner event.
Nominations for these significant Awards are open until 31 July 2019. There are 16 individual and team Award categories to choose from this year – please visit www.diversitylegalawards.org for further information and to make your nomination.
Awards Ceremony & Gala Dinner
Date: Thursday 28 November 2019
Address: Grange St. Paul's Hotel
10 Godliman Street
London
EC4V 5AJ
To attend this event you will need to be in receipt of a ticket:
Individual seat = £160.00
Table (seats 10) = £1,500.00
An early bird discount of 10% will apply to bookings made before 6 September 2019
Tickets can be found here: http://diversitylegalawards.org/the-event/
If you have any queries, please contact enquiries@diversitylegalawards.org