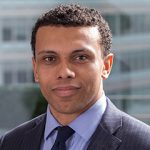 Kyle Blackburn, BSN North, Chair.
Kyle is a solicitor in the Restructuring and Insolvency team. He has experience of insolvency and restructuring work, including formal insolvency processes (including administrations, liquidations and bankruptcies), advice on directors' duties (both pre and post-insolvency), section 236 applications, shareholder disputes and LPA receiverships.
In addition, Kyle is committed to achieving a diverse legal sector; he is a director of The Black Solicitors Network, one of the UK's largest networks, whose aim is the promotion and retention of minority lawyers. Furthermore, Kyle chairs BSN North and also sits as a Council Member of Manchester Law Society.