25 Bedford Row: Care before Criminalisation Symposium – 6 Feb 2020, Conway Hall, Holborn
February 6, 2020 @ 6:00 pm

-

10:00 pm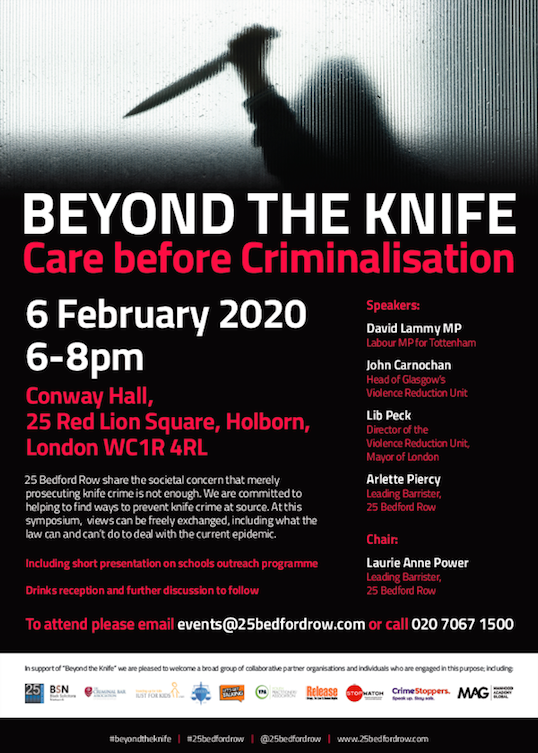 BSN is proud to support 25 Bedford Row's upcoming Symposium entitled 'Care before Criminalisation' on 6 February 2020 at Conway Hall, Holborn with guest speakers David Lammy MP, John Carnochan, Lib Peck, Arlette Piercy and chaired by Laurie-Anne Power, recent winner of the UKDLA BSN Lawyer of the Year (Chambers) Award!
25 Bedford Row share the societal concern that merely prosecuting knife crime is not enough. They are committed to helping to find ways to prevent knife crime at source. At this symposium, views can be freely exchanged, including what the law can and can't do to deal with the current epidemic.
Including short presentation on schools outreach programme
Drinks reception and further discussion to follow
The schedule for the evening is planned as follows:
6.00pm Delegate Registration at Conway Hall, Red Lion Square, Holborn.
6.15pm Start. Introductions, short screening from prominent gang member ex –offenders, campaigning for positive change.
6.30pm Speakers to address the audience 5 -10 minutes each
7.10pm – 8.00pm Q & A, question time format.
8pm – 9.30pm Drinks reception and further conversation.
To attend, please e-mail events@25bedfordrow.com or call 020 7067 1500