BSN Hot Topics: Upholding professional standards | Tue 20 April 2021 @ 6pm
April 20, 2021 @ 6:00 pm

-

7:30 pm
In 2014, Professor Gus John published the Independent Comparative Case Review looking at fairness in the SRA's enforcement processes and made several recommendations. In December 2020, the SRA for the first time since 2014, reported on the diversity characteristics of the people involved in the enforcement processes. As with all previous external reports, the SRA confirm that there is still overrepresentation of people from Black and Asian backgrounds throughout the SRA enforcement processes.
Join us on 20 April as Jane Malcolm and Siân Hughes present the findings and set out what steps are being taken to reduce this disproportion. Hosted by BSN Director and Co-founder, Cordella Bart-Stewart, OBE, this event will also be an opportunity for you to ask questions.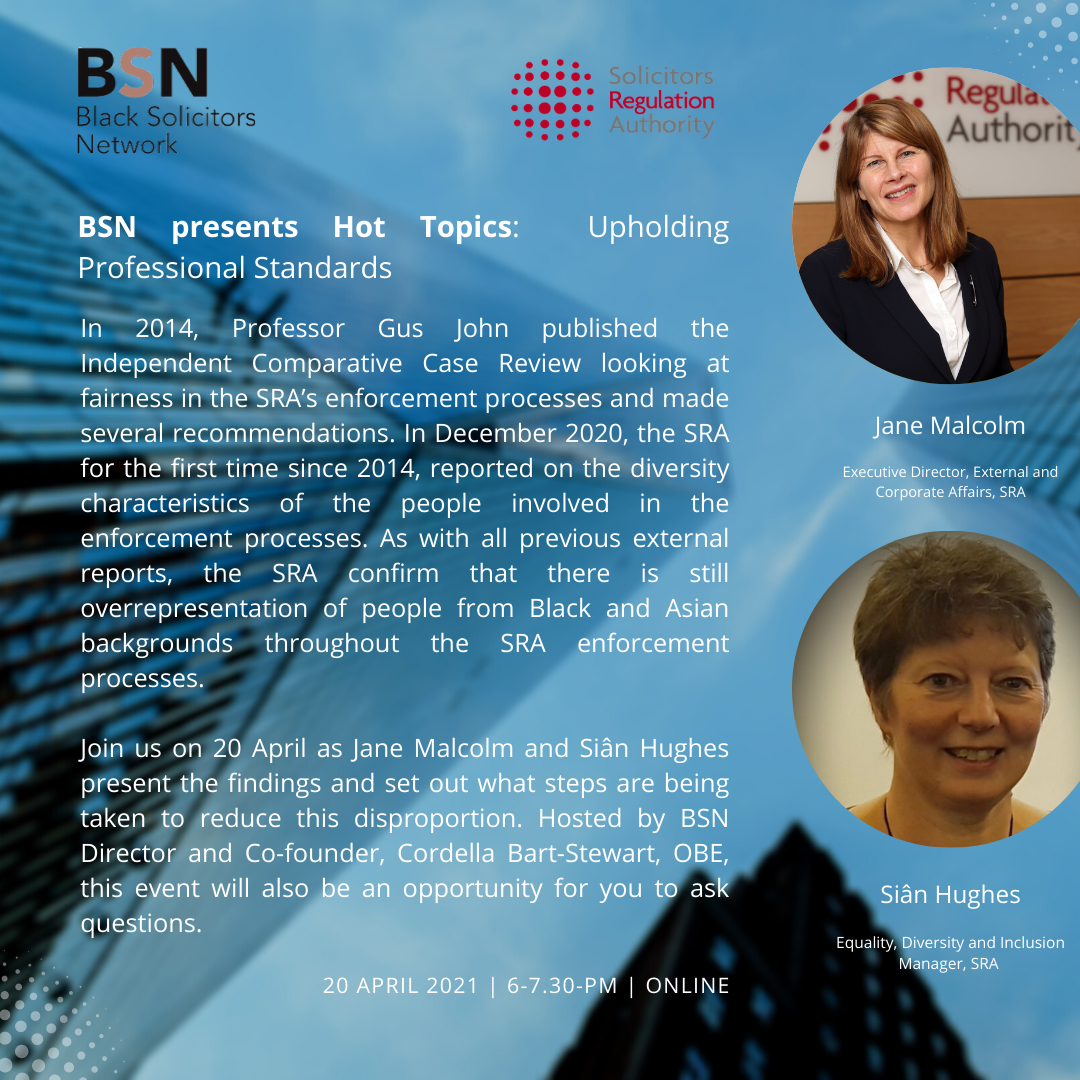 Guest speakers:
Jane Malcolm, Executive Director, External and Corporate Affairs, SRA
Jane is Executive Director of External and Corporate Affairs at the SRA responsible for communications and corporate affairs. Prior to joining the SRA, she held a series of roles at the General Medical Council, where she had responsibility for devolved administrations, was Assistant Director in Fitness to Practise and Assistant Director to the Chief Executive. Previously Jane also worked at the Federation of Small Businesses where she led UK and European policy development.
Siân Hughes, Equality, Diversity and Inclusion Manager, SRA
Siân has worked for the SRA since 2010, advising the organisation on equality and diversity matters and working across the legal profession to promote diversity and inclusion. Before joining the SRA, Sian worked as a solicitor for the Commission for Racial Equality, advising on individual claims of racial discrimination and compliance with the public sector equality duties.
____________________________________________________________
Date: Tuesday 20 April 2021
Time: 6.00pm-7:30pm
RSVP: Click here to reserve your place.
If you have any queries regarding the event, please contact us at enquiries@blacksolicitorsnetwork.org
If you would like to join BSN as a member, please click here.